"Our father once said "I don't expect forgiveness from you anymore. I don't believe in miracles. How could you possibly understand that your childhood had to be sacrificed for something greater? And not just for me. For you!" It was then that I truly understood what it meant to be a member of this family."
―Dalibor Palpatine
Dalibor Palpatine was a noted Human male who served as an officer in the Imperial Starfleet of the Galactic Empire as well as the head of Dynamic Synergetics, Inc..
Born in 22 BBY on Imperial Center to the aristocratic House of Palpatine, Palpatine lived a privileged childhood in the Imperial Palace.
Biography
Edit
Early life
Edit
Dalibor Palpatine was born on the planet Imperial Center in 22 BBY, to the House of Palpatine's patriarch Cosimo and his wife Dalit Palpatine. Palpatine was raised at the Imperial Palace with his elder half-brother, Cosimo, his elder sister, Cosmina, his elder brother, Dantius, his older sister, Delice and his older brother, Decimus.
Personality and traits
Edit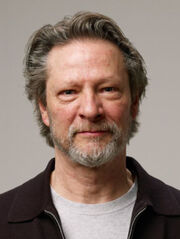 Relationships
Edit
Appearances
Edit
Notes and references
Edit